Home
»
Commercial Applications
Oklahoma Commercial Foundation & Concrete Repair Systems
Structural support solutions for commercial projects in Tulsa & nearby
Foundation, Geotechnical Engineering, & Concrete Solutions
Bedlam Foundation & Concrete Lifting can lay the groundwork for large, commercial concrete and foundation repair projects. We offer a line of concrete and foundation support services that can help with the construction of new construction applications as well as existing structures.
As a member of Supportworks, Bedlam Foundation & Concrete Lifting offers a line of engineered foundation support products and techniques that help repair and reconstruct foundation, including:
Operating throughout Oklahoma, Bedlam Foundation & Concrete Lifting specializes in concrete slab and foundation support for new construction of all types, including commercial, residential, government, and municipal buildings, as well as all other structures.
For estimates on estimated work, product availability, or technical information on creating sustaining structural support, contact us today!
Supportworks Commercial Dealerships
Supportworks is an international concrete and foundation repair network serving the United States and Canada. Each dealership within the network is trained at either of two international headquarters -- one located in Omaha, Nebraska, and the other in Seymour, Connecticut, USA.
The Supportworks Contractor Network was founded on simple principles: integrity, quality, and service. The network maintains geotechnical and structural engineers to manage product design and quality assurance. Supportworks' engineers are dedicated to providing ongoing dealer support, working closely with the dealerships and supporting their commercial and residential project issues, such as product capacity and design.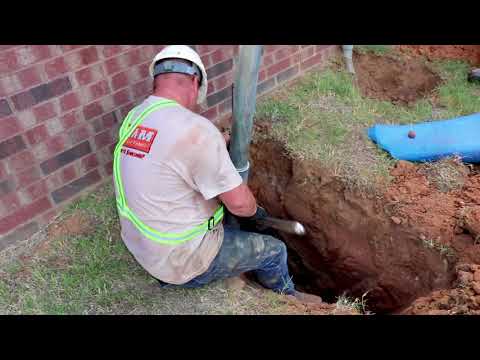 Jenks Intermediate East Helical Pier Project...
Jenks Intermediate East Helical Pier Commercial Project in Jenks, Ok
Watch Video
Related Videos
As a Supportworks Contractor, Bedlam Foundation & Concrete Lifting is connected to an international network of concrete and foundation repair contractors.
Our Commercial Foundation & Concrete Services:
Residential Foundation Repair
Engineering Services and Support
Foundation Design
Foundation Restoration
Sidewalk & Driveway Leveling
Airport Runway & Railroad Repair
Pre-Construction Soil Stabilization
Local commercial foundation & concrete contractor
All Supportworks, Inc. manufacturing facilities meet ISO 9001 standards and are approved by the Canadian Welding Bureau. All products are routinely checked by engineers to ensure precision and durability.
At Bedlam Foundation & Concrete Lifting, we believe in the integrity and high business standards set by Supportworks as well as their state of the art products and flawless foundation and concrete repair service techniques. We provide the highest in industry standards and execute foundation repair jobs that are cost-efficient with lasting stability.
Contact us today if you are interested in starting a commercial foundation project or for any of our other concrete repair and foundation repair services. We offer Free Estimates and quotes on aspiring jobs by reaching out to us by phone: 1-855-462-4840 or email.
Bedlam Foundation & Concrete Lifting services areas all throughout Greater Oklahoma City including Tulsa, Edmond, Broken Arrow, Mustang, Choctaw, Norman, Enid, Stillwater, Owasso, and more!
Looking for a price? Get a no cost, no obligation free estimate.