Concrete Pool Deck Repair in Edmond, Oklahoma City, Tulsa & Nearby
Quickly repair uneven concrete around your pool with PolyLevel®
Has the concrete surrounding your pool dipped or settled, creating a hazardous uneven surface? Is there a protruding concrete edge where one section of the slab has settled below another?
The foundation repair specialists at Bedlam Foundation & Concrete Lifting are especially well-equipped to make these types of pool deck repairs.
What's more, our innovative PolyLevel® concrete lifting and leveling technique is faster and more affordable than pool deck replacement. It's also a better option than pool deck resurfacing.
Contact Bedlam Foundation & Concrete Lifting to have your pool deck inspected today! We serve Edmond, Oklahoma City, Tulsa and neighboring areas throughout Oklahoma. Get a free estimate for pool deck lifting and repair.
Concrete Pool Deck Repair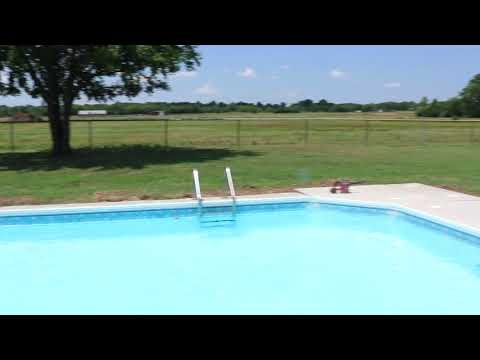 Pool Deck Repair in Haskell , Ok
Bedlam Concrete Lifting was called to repair this Pool Deck by using Polylevel in Haskell, Ok. Bedlam... Watch Video »
---
Causes of a sinking concrete pool deck
Many concrete pool decks are prone to settling because of the pool construction process. The backfill soil that's added around the pool excavation will not be as dense or well-compacted as the undisturbed soil. When a heavy concrete slab is poured around the pool, loose soil will often compress under the slab's weight, causing sections of the concrete to sink or settle.
---
How PolyLevel® works to repair your settled pool deck
PolyLevel is a high-density expanding foam that our technicians can use to raise settled concrete. The two-part polyurethane foam mixture is injected through small holes drilled in the settled concrete. Our installers are trained to control the injection process so that just enough foam is used to re-level the concrete deck. Because the foam's expanding action fills voids in loose soil, this concrete leveling technique improves the soil's stability and load-bearing characteristics. You can feel confident that settlement won't occur again.
---
Get a quote to eliminate swimming pool trip hazards today
Worried that your sinking swimming pool deck might be a tripping hazard? Bedlam Foundation & Concrete Lifting has successfully raised and restored hundreds of pool decks in Oklahoma City, Tulsa, Edmond, Norman, Enid, Stillwater, Owasso, Mustang, Choctaw and throughout Oklahoma. Contact us today! We can answer any questions you have about concrete repair and provide you with a free estimate to repair your pool surround.
Looking for a price? Get a no cost, no obligation free estimate.